When you're planning your big day, sometimes it can be hard to find exactly what you're looking for. Of course, there are countless venues to choose from, and my team and I have lots of recommendations for you if you need them. However, if you're like this couple, you want something a little out of the box! 
They knew that they didn't want to sacrifice anything when it came to their wedding day. So they decided that they wanted to create an outdoor venue space that would allow them the freedom to do, well, whatever they wanted! They put in a year's worth of work to make this their dream venue – and I want to share with you exactly what they did. I hope this will give you the inspiration to personalize your wedding as much as you possibly want, because in the end, you won't regret a thing!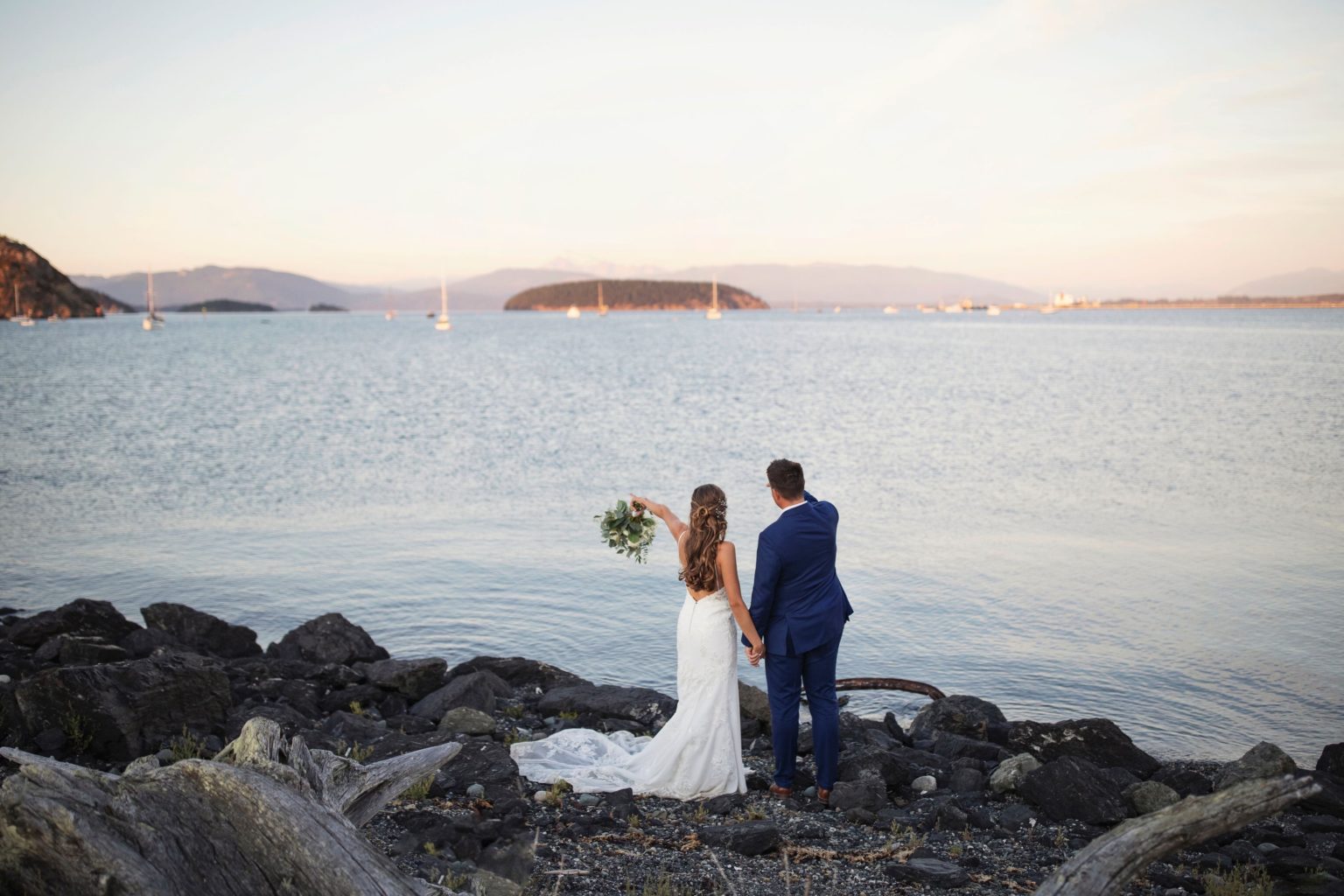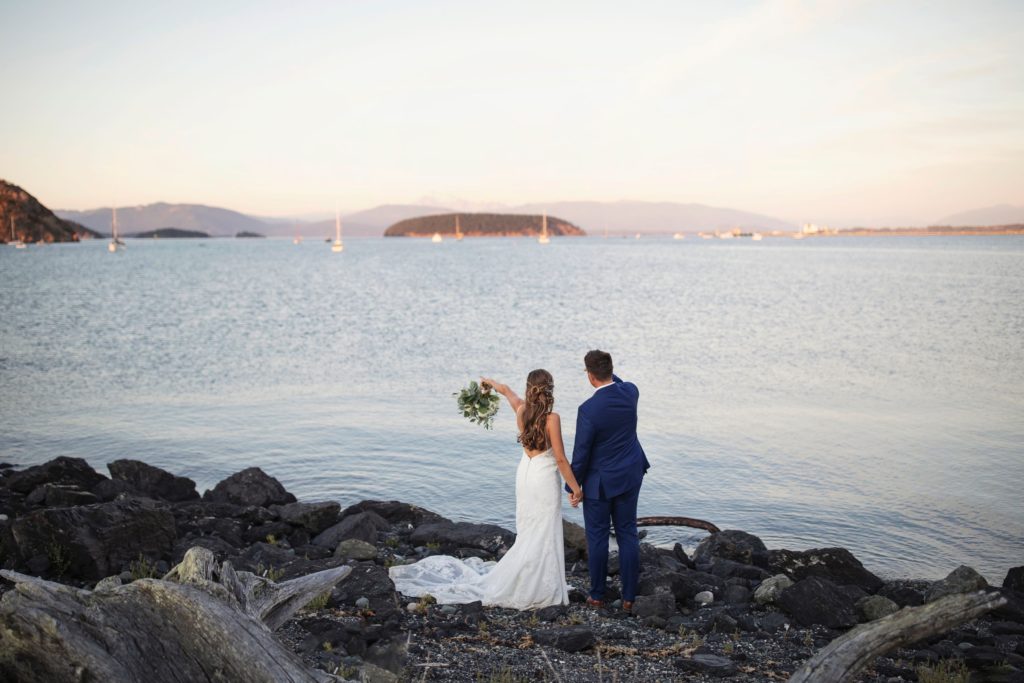 Why they wanted to personalize their wedding
They knew that one of the things they didn't want to sacrifice was celebrating. They knew their crowd all too well – and knew that the 10 PM Seattle noise ordinance was not a concern they wanted to have. Of course, it's your wedding day, you want to be able to celebrate with your loved ones for however long you want! This led to them brainstorming ideas on how they could have the best of both worlds. Obviously, most venues in the area comply with all city ordinances. So shutting the party down at a reasonable hour would have had to be a priority. And then they thought, "Why don't we just build an outdoor venue ourselves?"
Now, I know what you're thinking. "Building a venue from the ground up doesn't seem as simple as it sounds." But seeing Raquel & Jimmy tackle this project made me believe that with a little determination (and patience), anyone can do it!
Keep in mind that of course we're talking about an outdoor venue space that doesn't require any serious construction – we recommend leaving that to the professionals. This couple wanted an open, outdoor venue, so that's what they created! It's also important to mention that they already owned the land that they created their venue space on. This article is meant to inspire you to customize your wedding with whatever circumstances you might have, just like they did!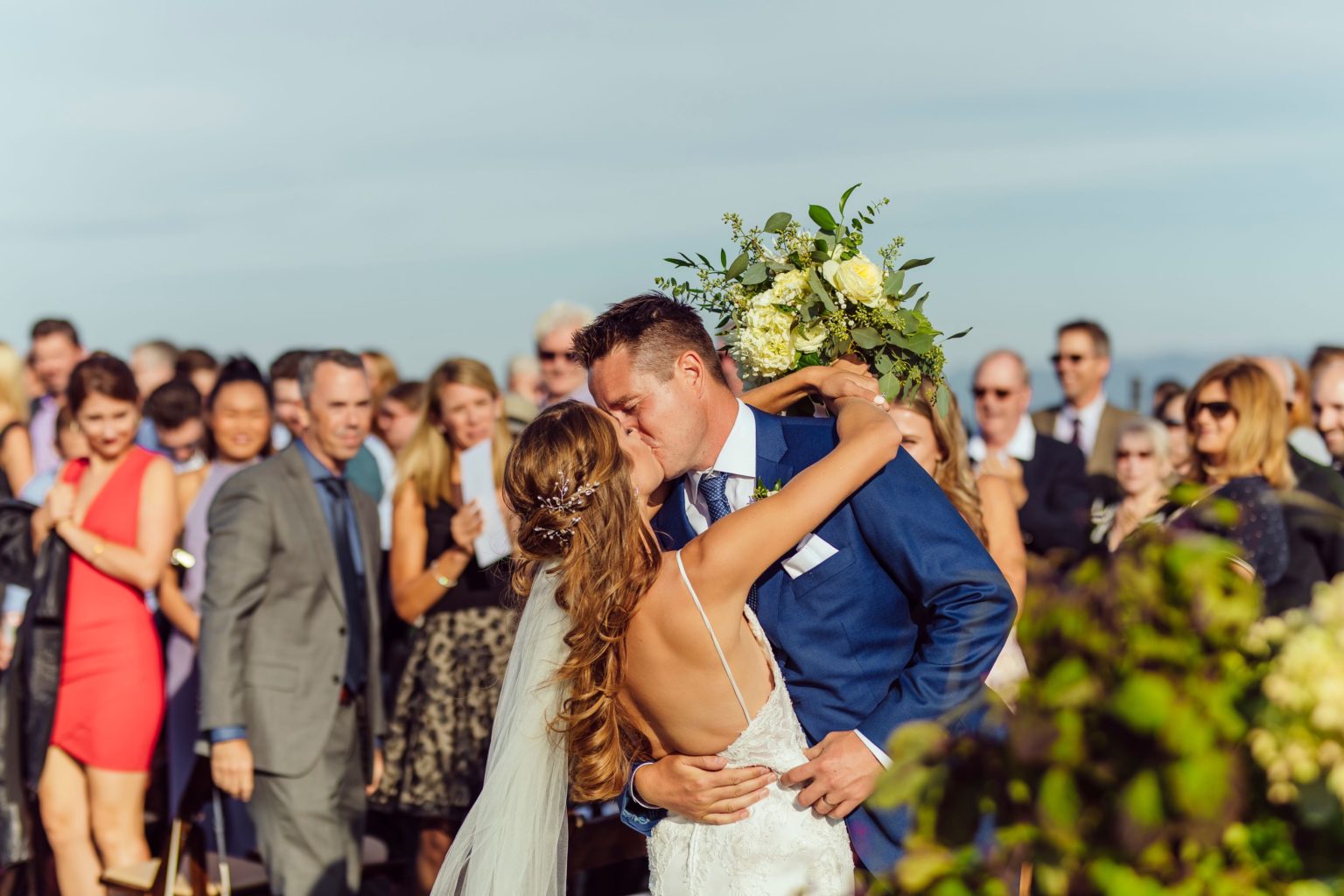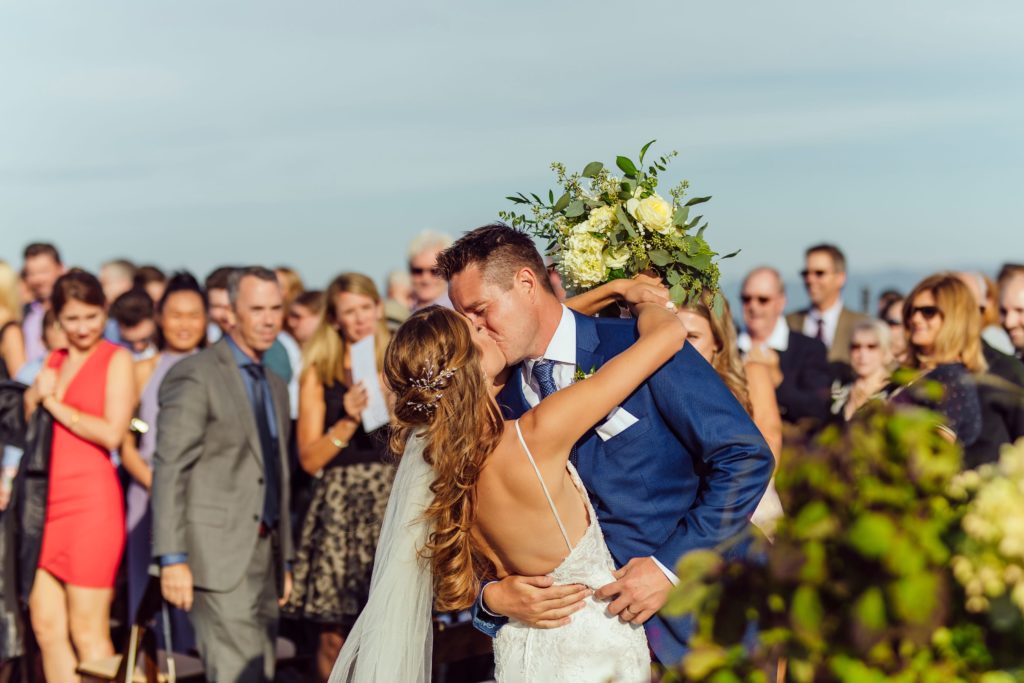 The months leading up to their wedding day
I'm telling you – I was in awe watching all of their hard work come together. Within the months leading up to their wedding day, they really got to work. A few of the things they did were –
Leveling out the land they wanted to have their venue space on
Laying down rocks
Choosing the overall design & layout of their venue space
Designing decor ideas
And then came the fun stuff. They wanted to have custom planters as decor for their space and bases for their choice of lighting: cafe lights. So they built some themselves! They took 6 wine barrels, and then cut them in half so that they looked like planters. How genius, right?
But the fun doesn't stop there – they made two entire bars out of just wine barrels and wood tops. For the centerpieces and table numbers, they handmade over 15 signs, which came out beautifully. And you see all of these gorgeous lanterns that lit their path? All 40+ of them were handmade by the couple and their crew. They even had a sign that listed the business names all the vendors they had for their guests to see – talk about vendor love!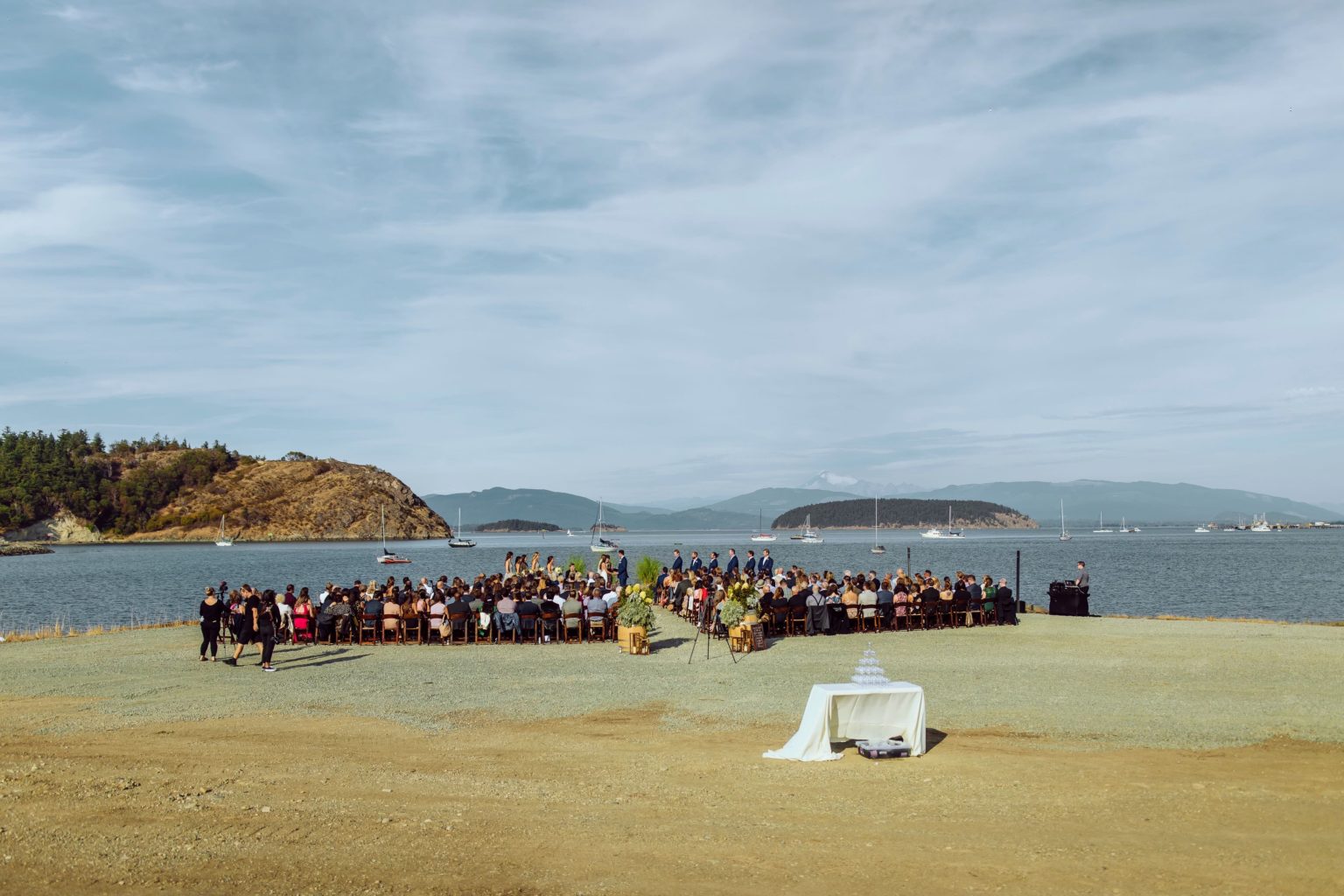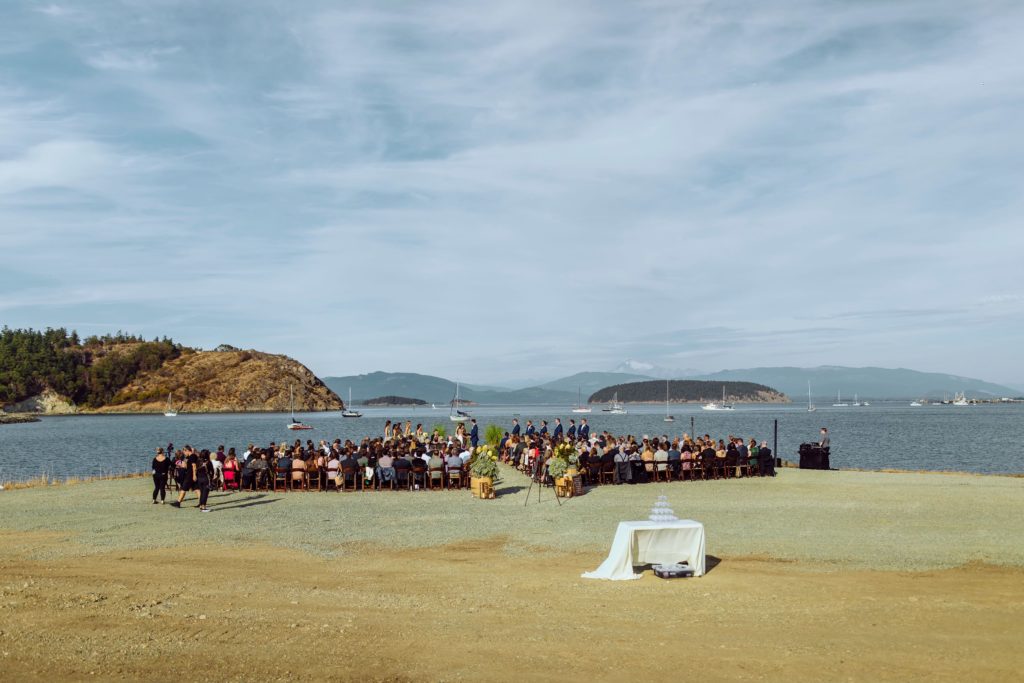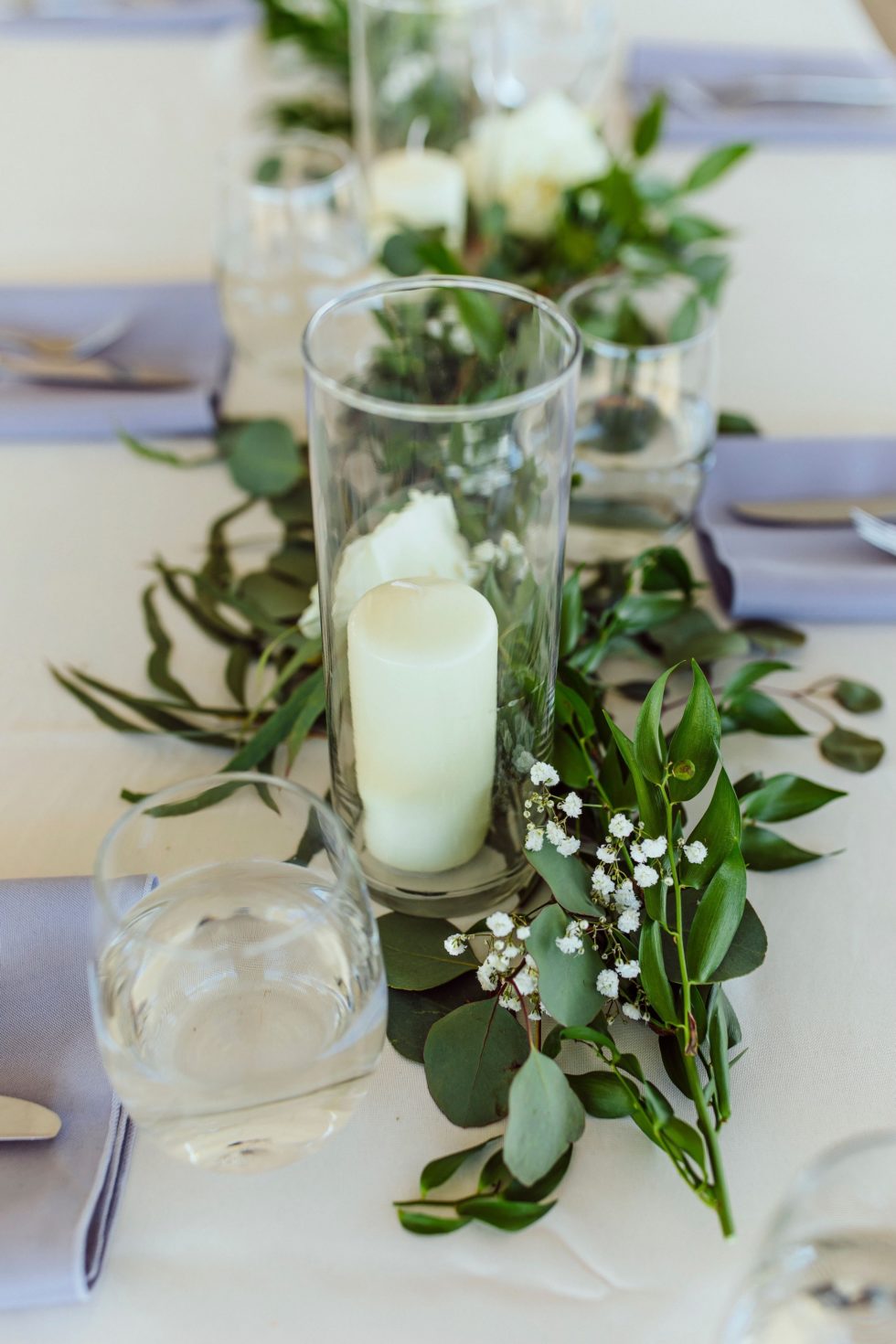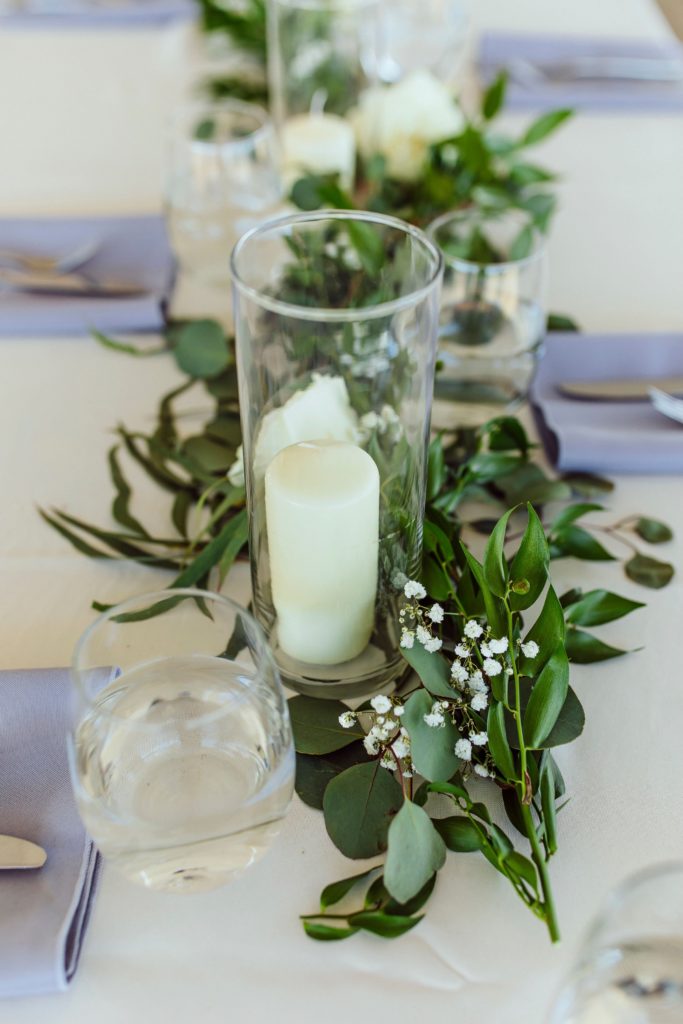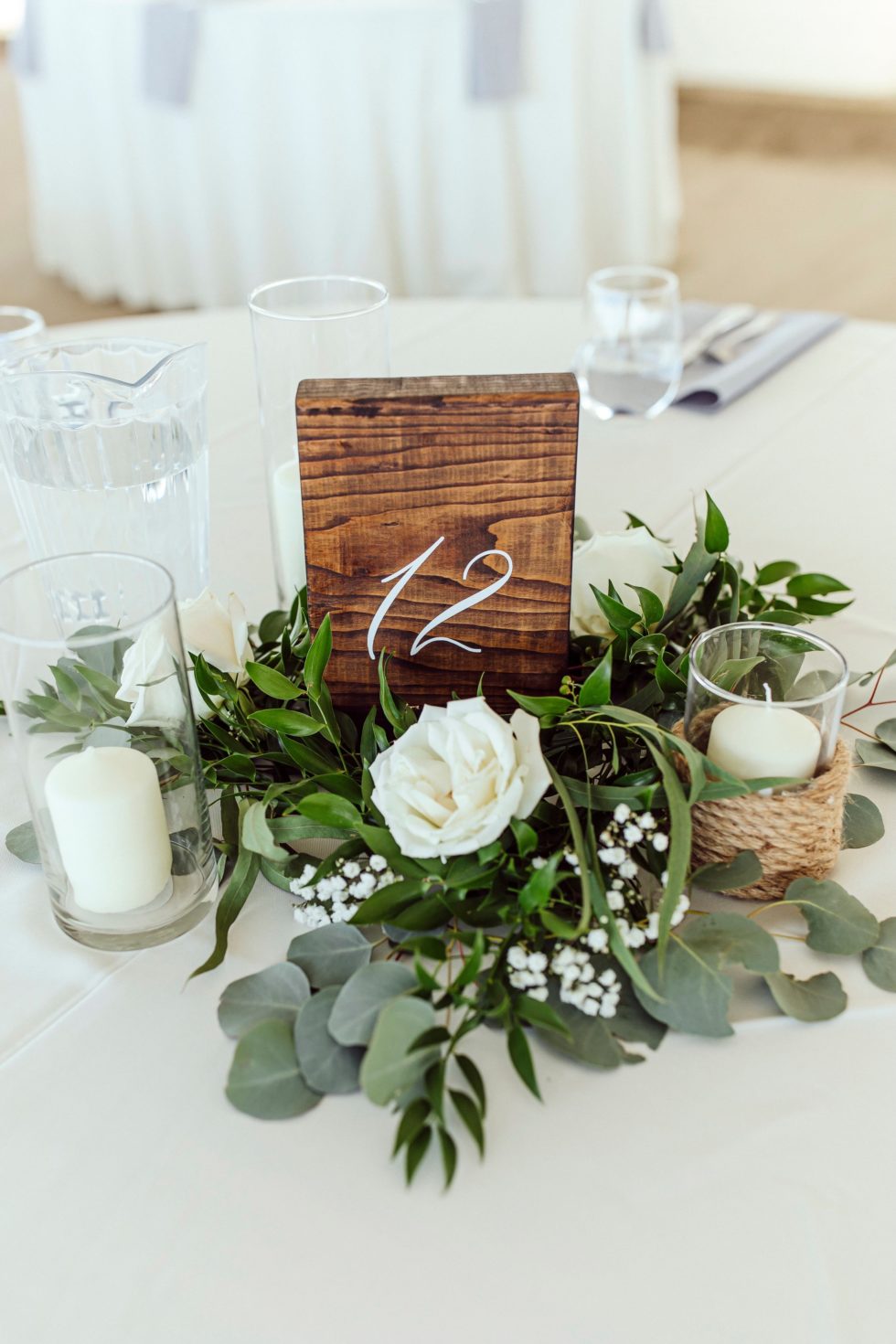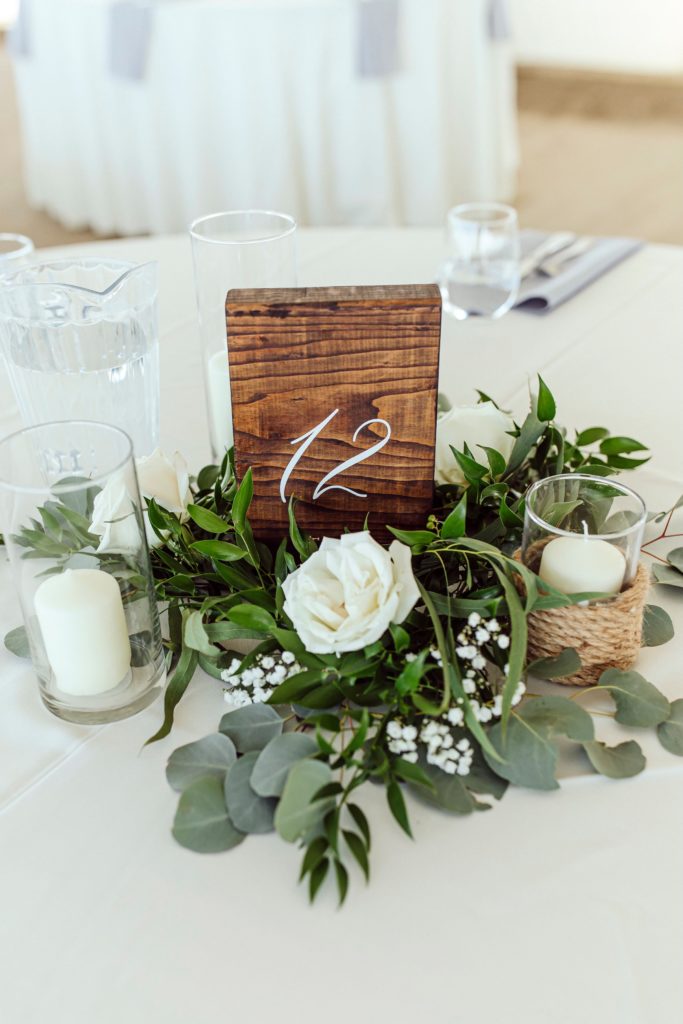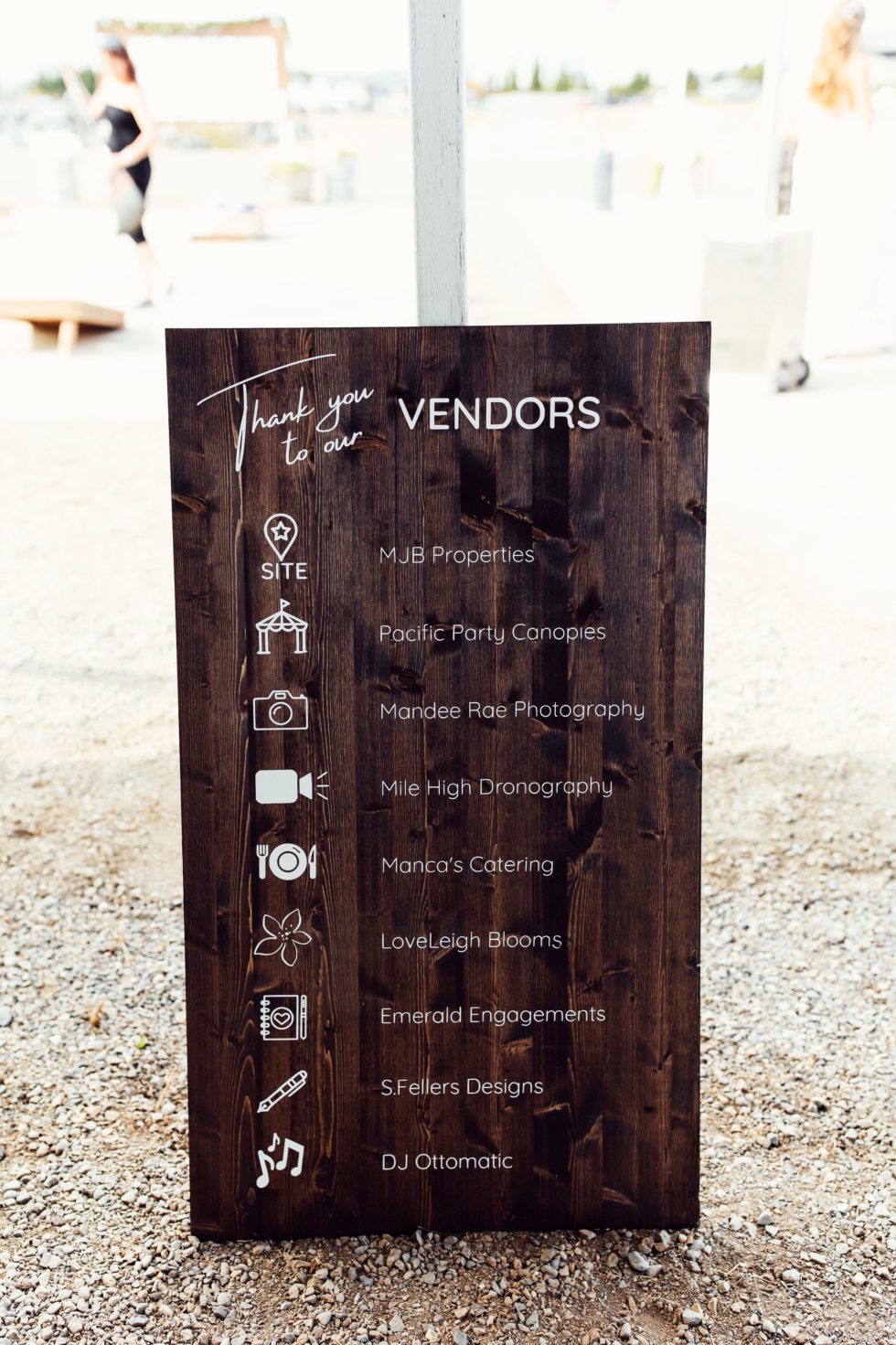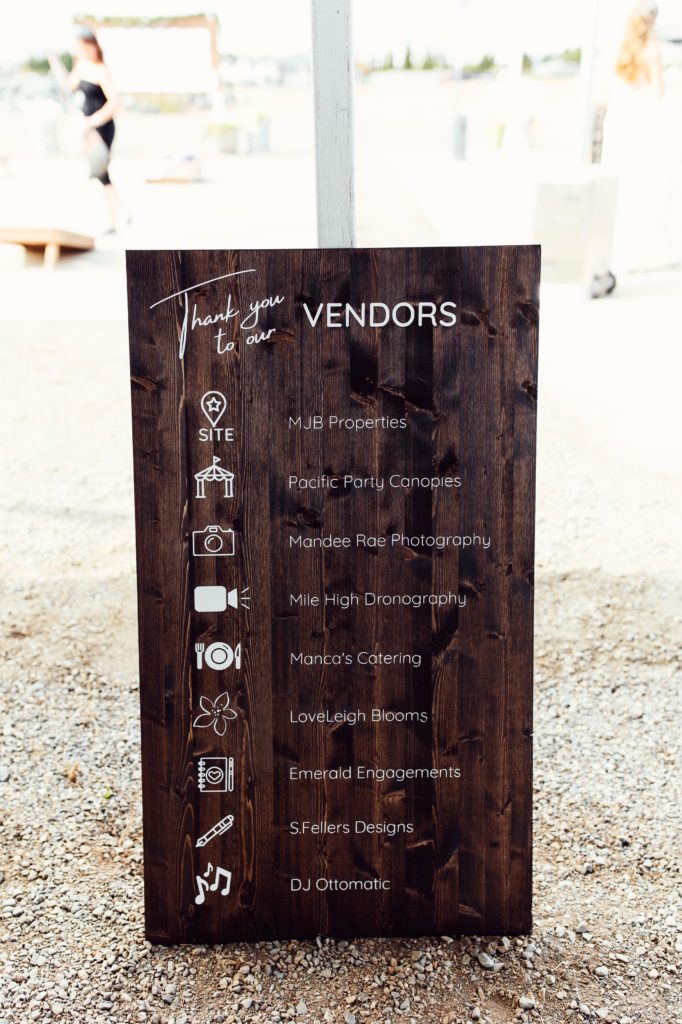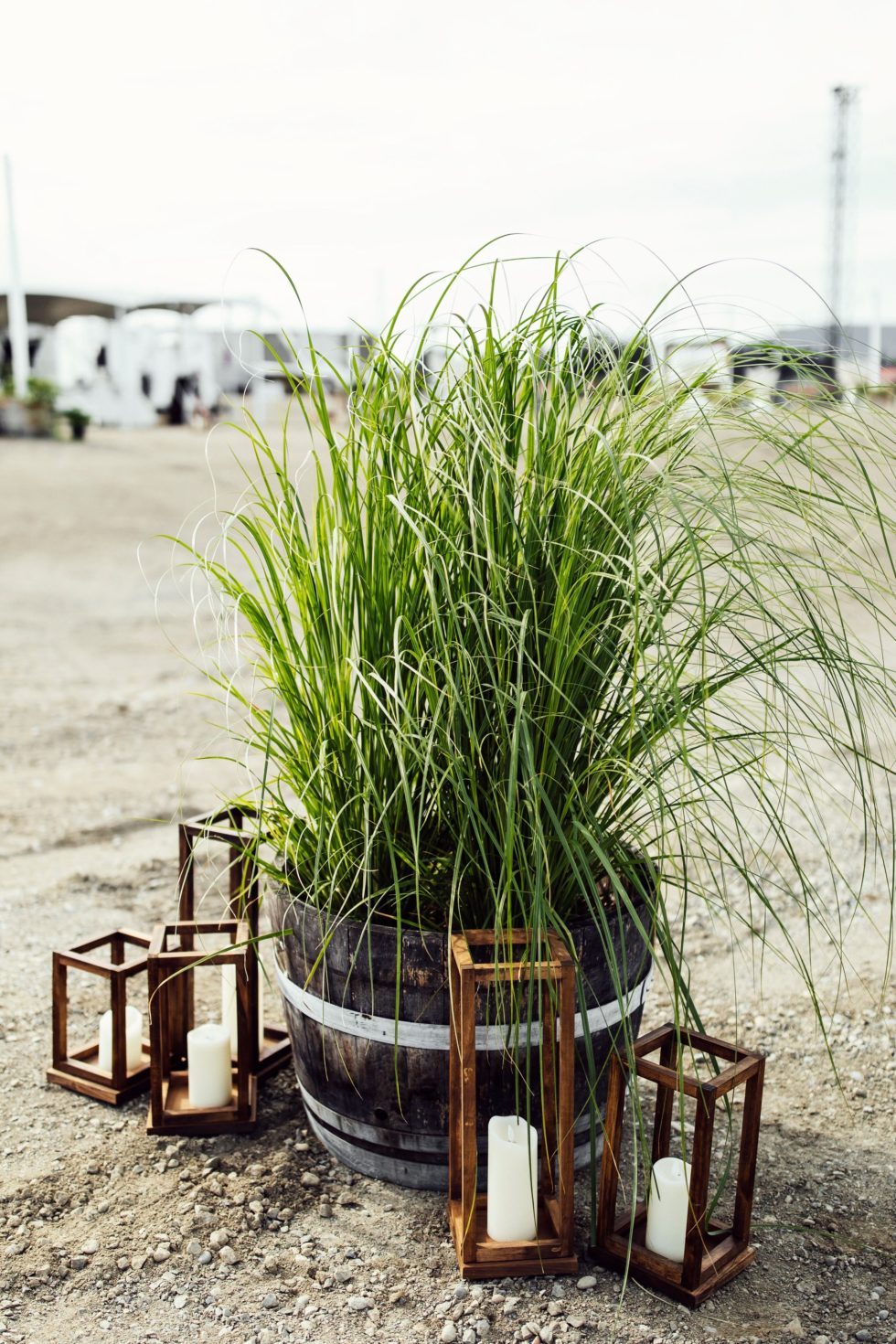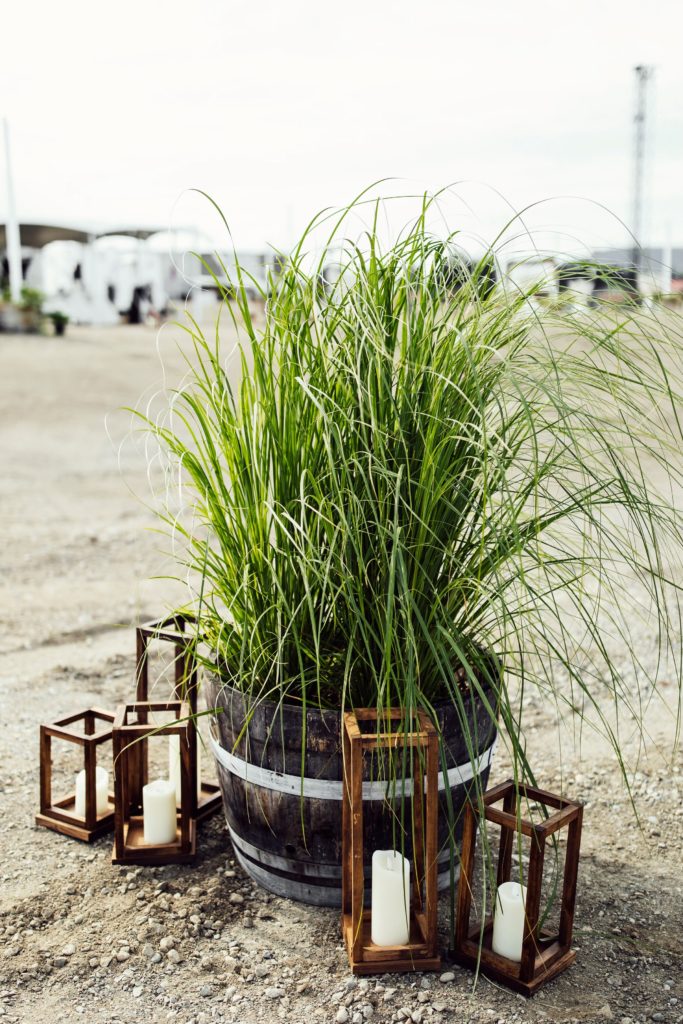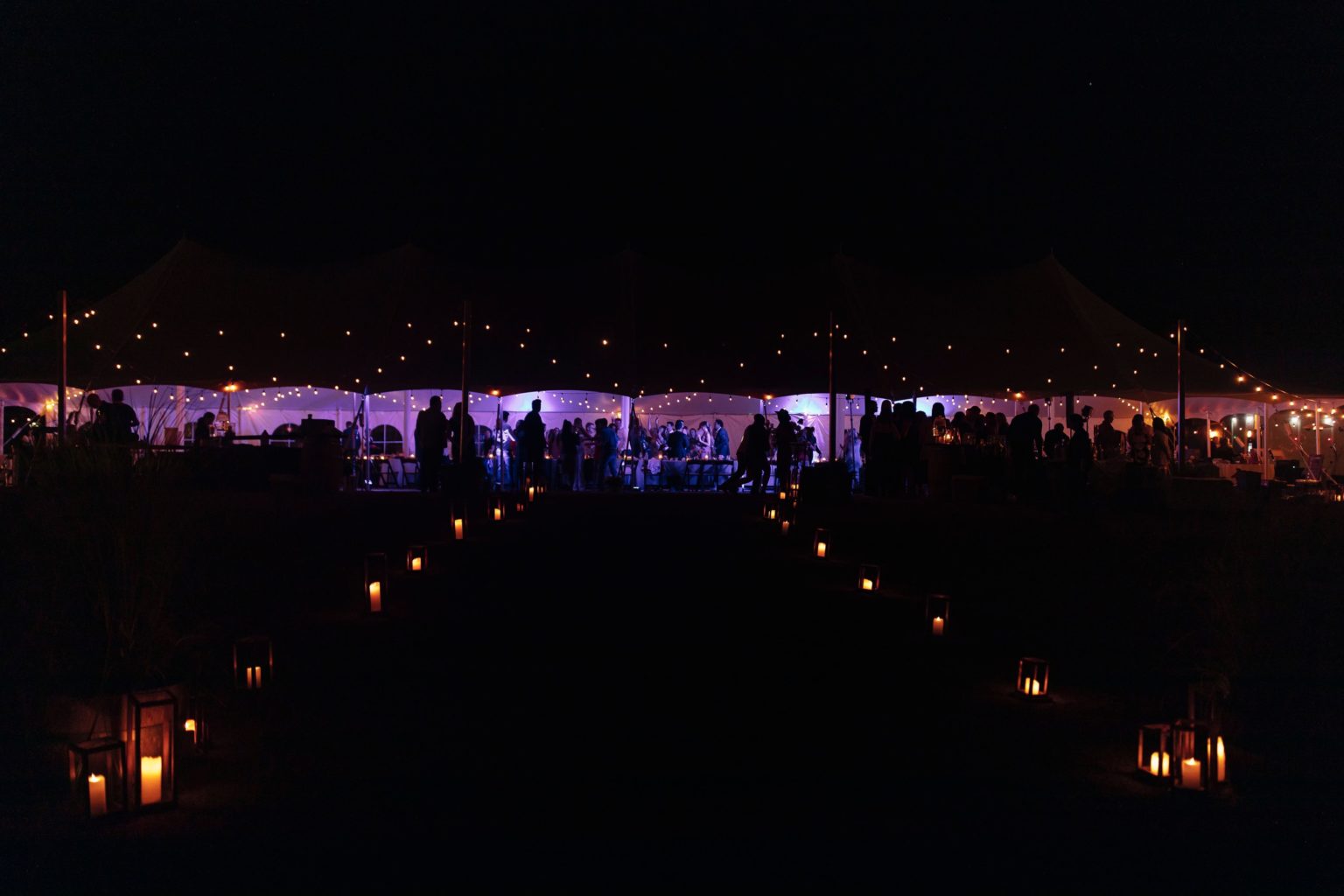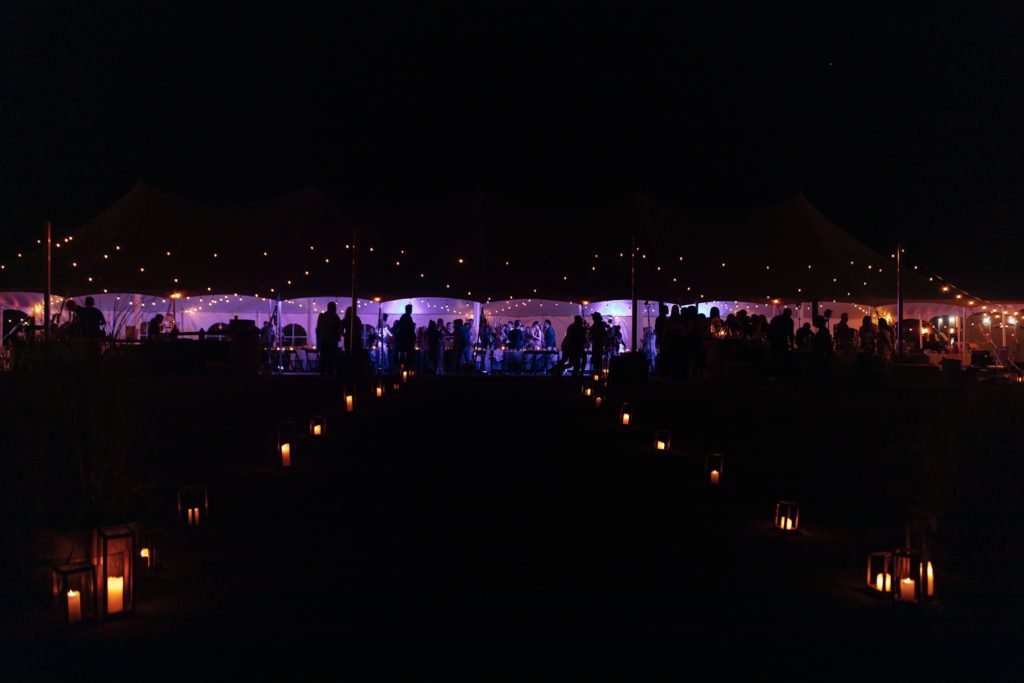 The week leading up to their wedding day
This is when they put all the final touches on their custom outdoor venue. During the final week, their 40' x 120' tent went up, and their two (yes, two) 12' x 20' dance floors were installed as well. I'm telling you, they know how to party!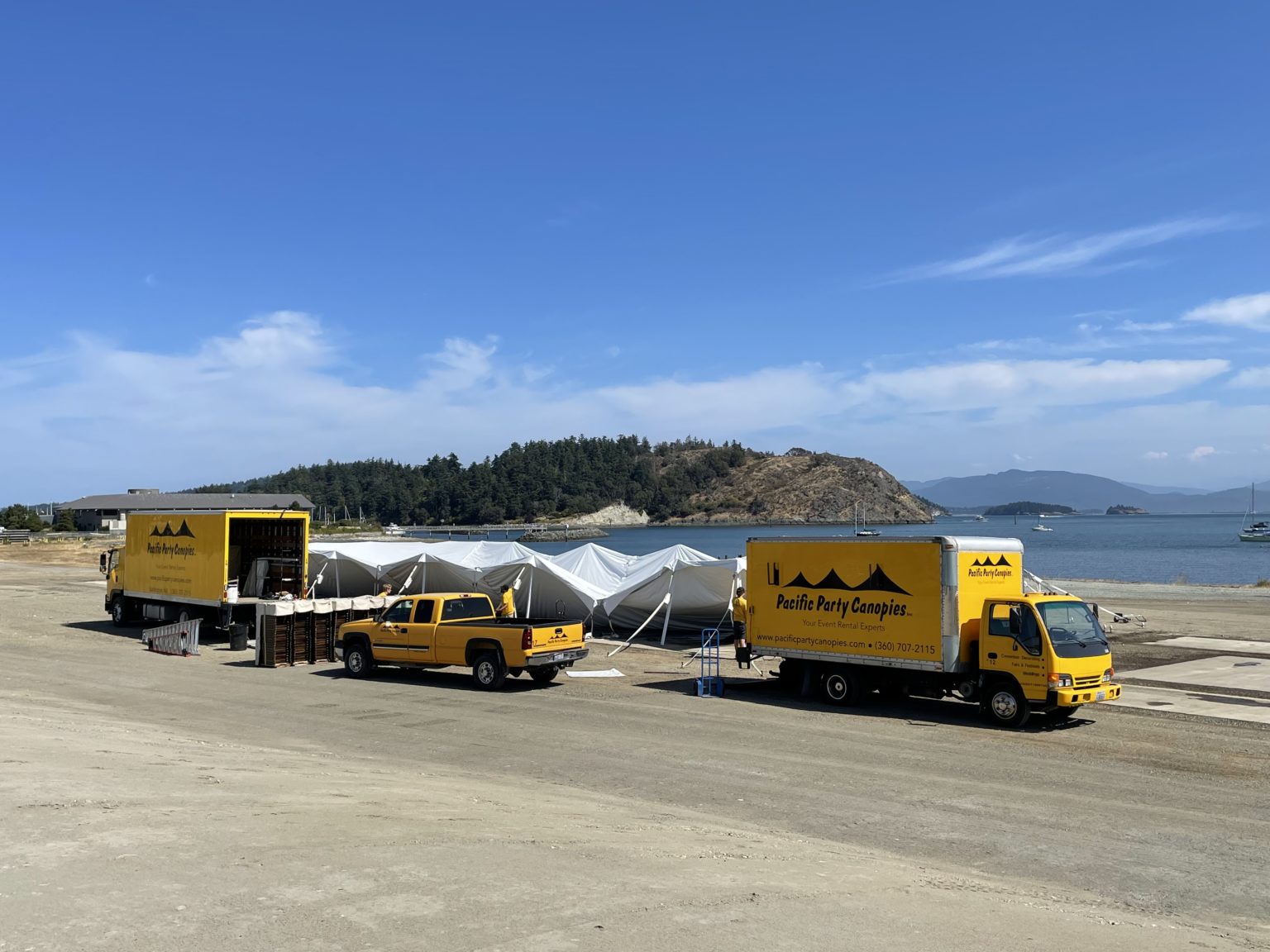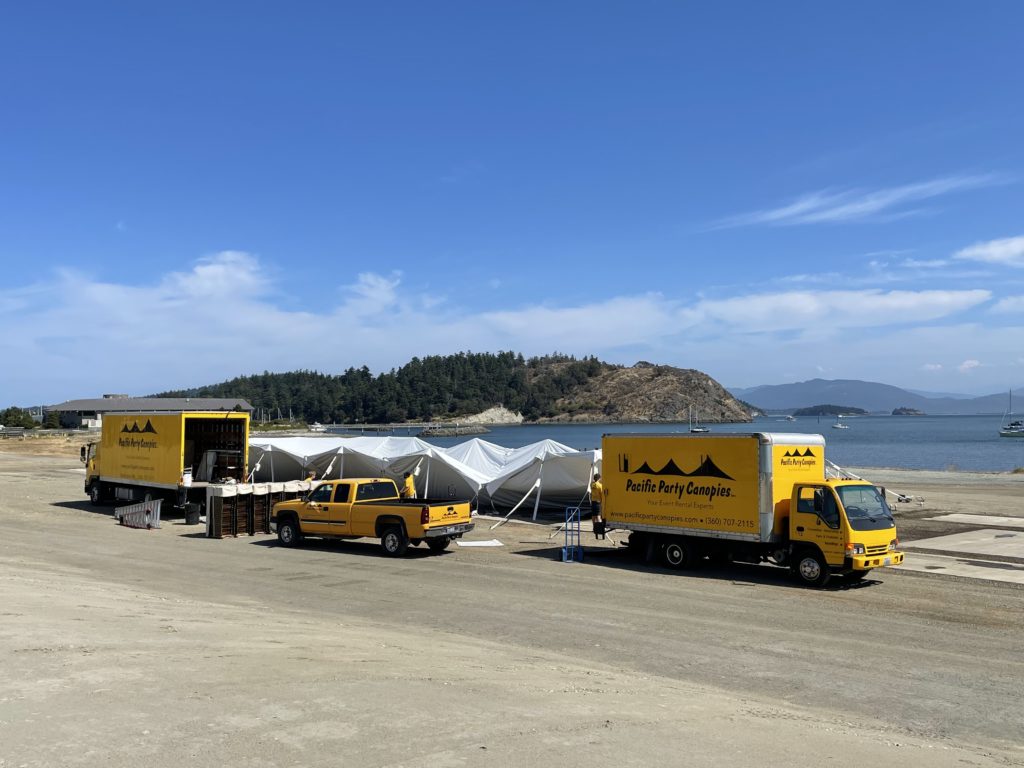 Their wedding day
These two created the party of a lifetime for their people and it was truly amazing to watch it all unfold and come together. As you can see, they kept things simple and elegant, with greenery and touches of lavender all throughout their decor. One of my favorite things they did was the supersized bottle of wine as their guest book! Between that and the champagne tower, I've never seen bigger hits at a wedding. Everyone in attendance could feel how much time, effort, and energy the newlyweds put into making their wedding an unforgettable experience for not only themselves, but for the guests as well.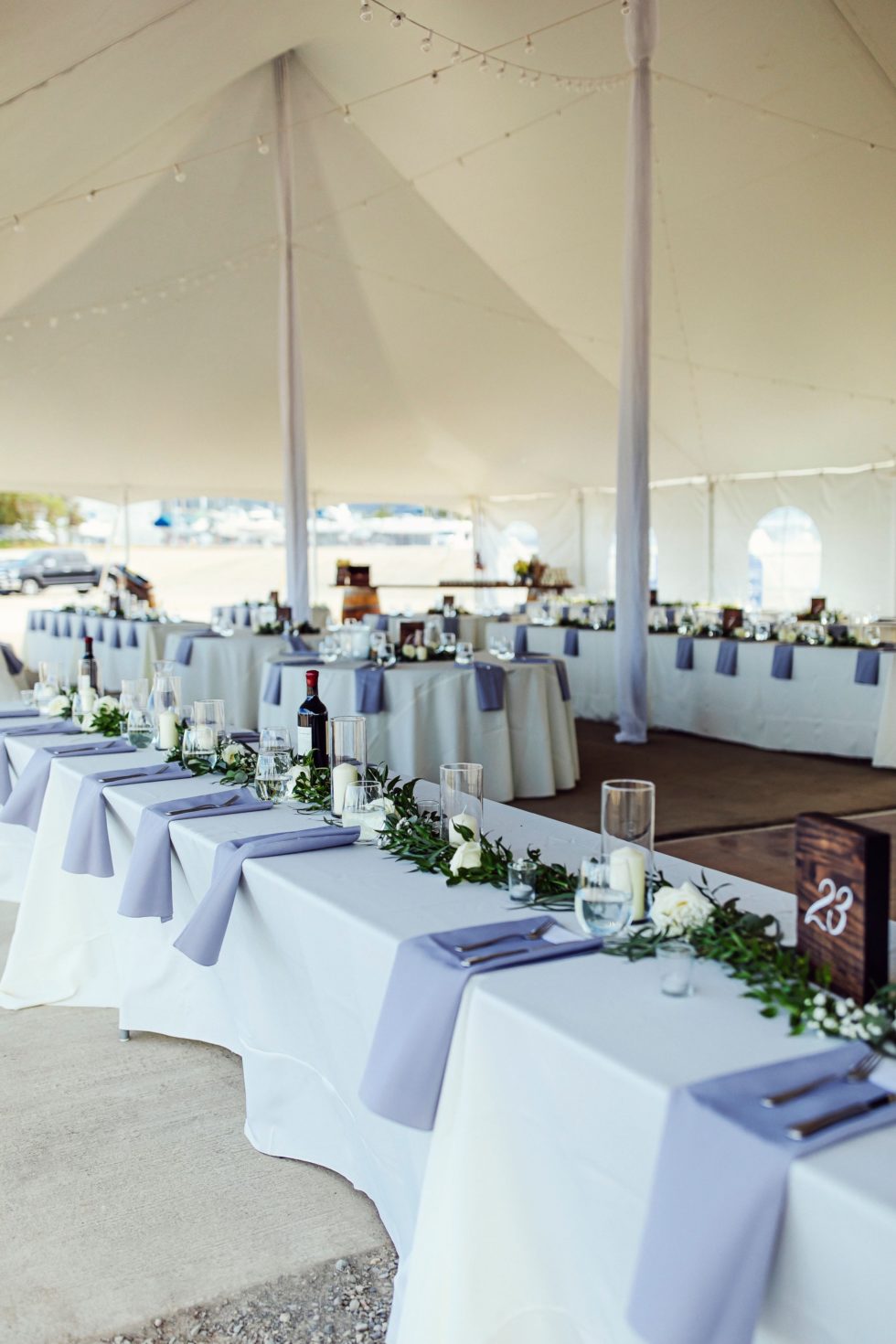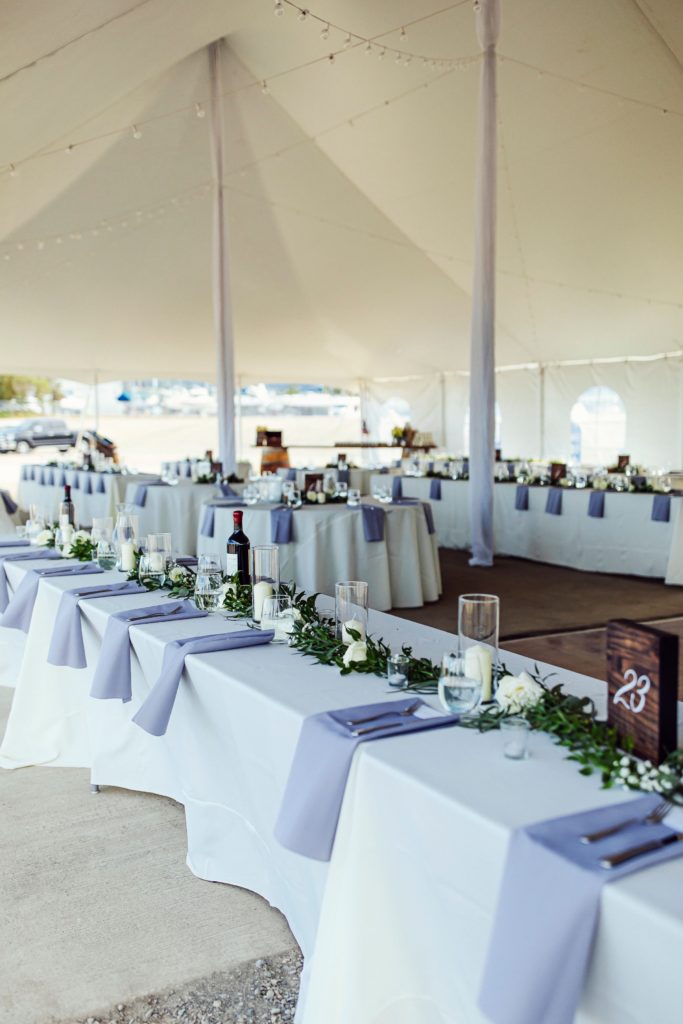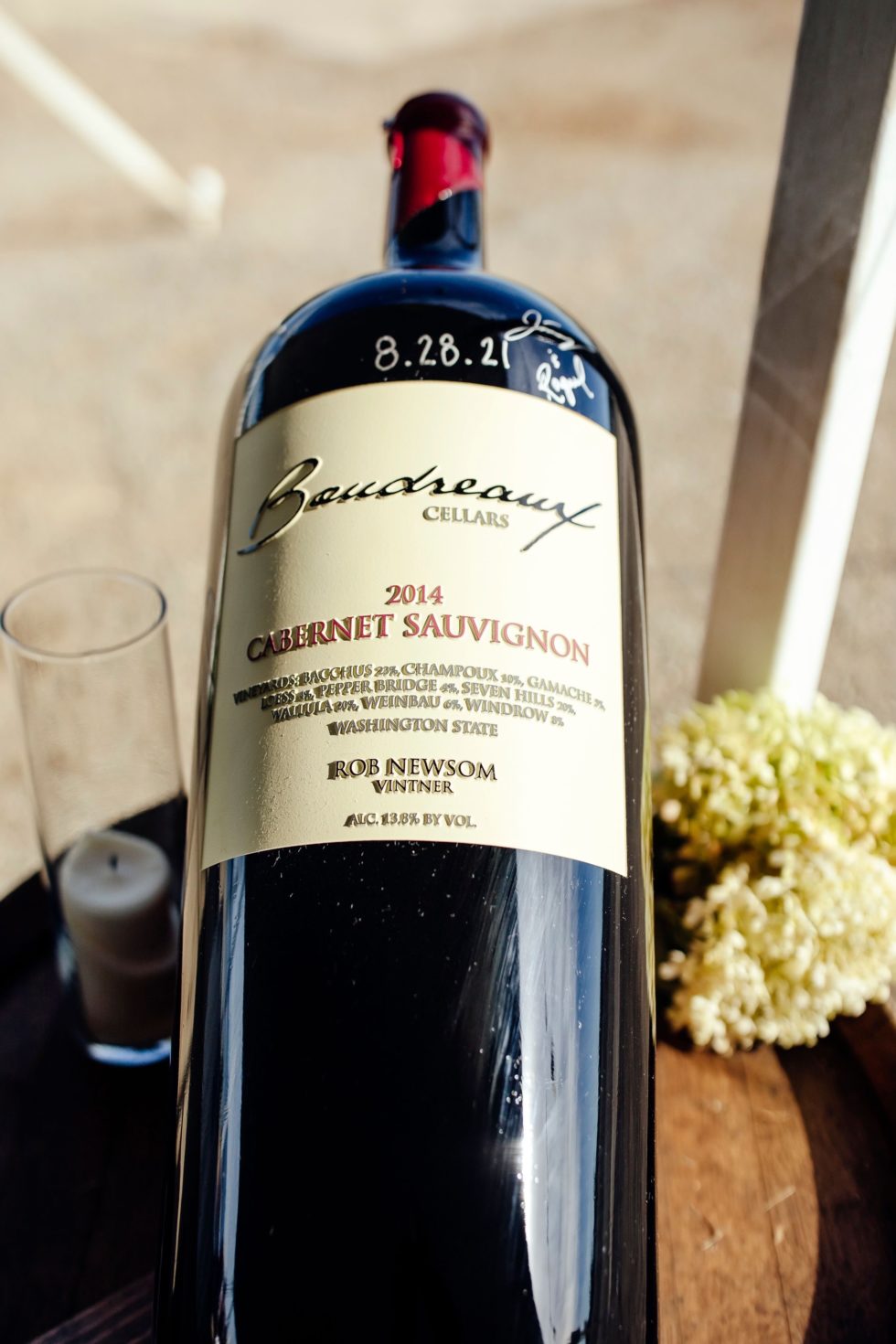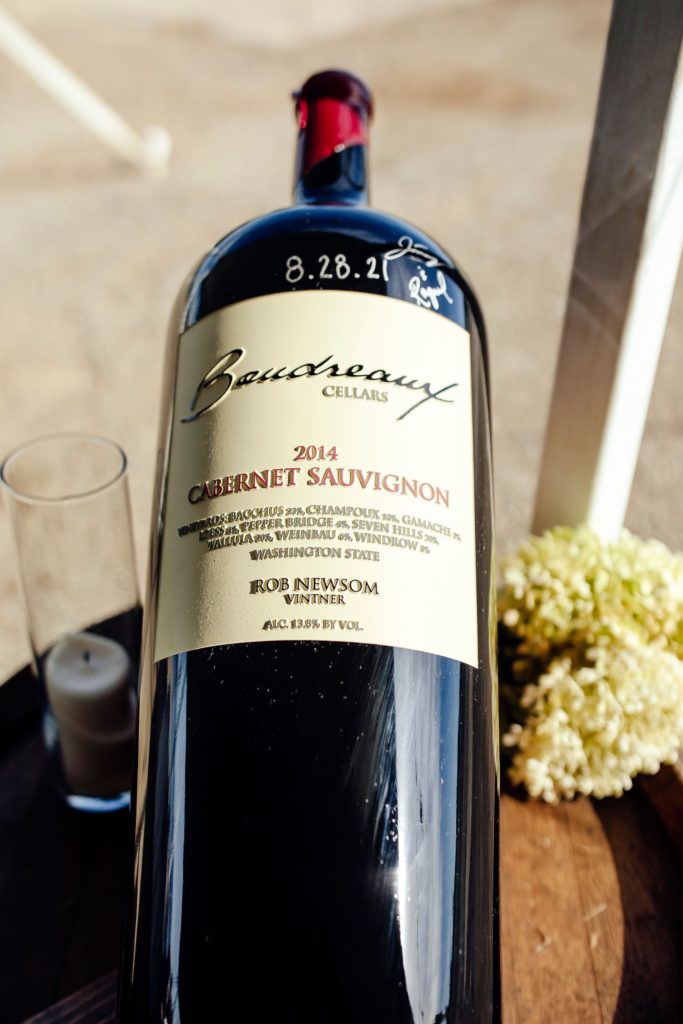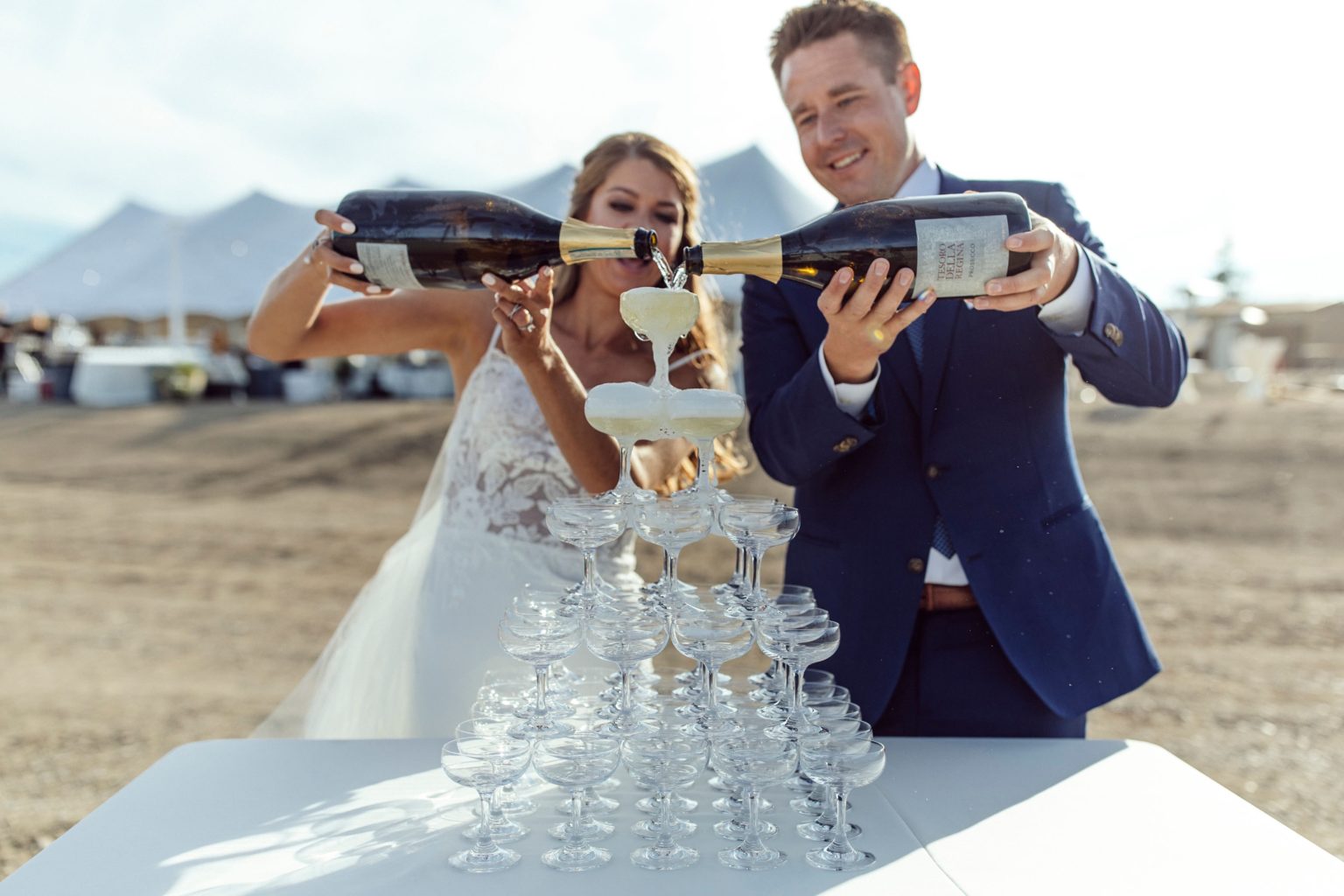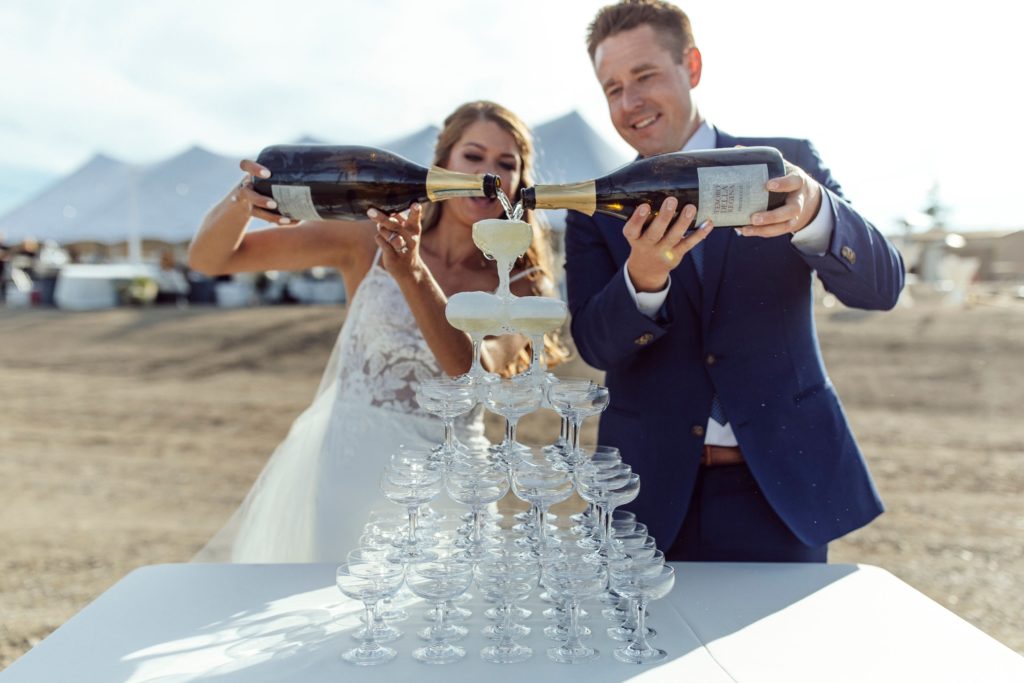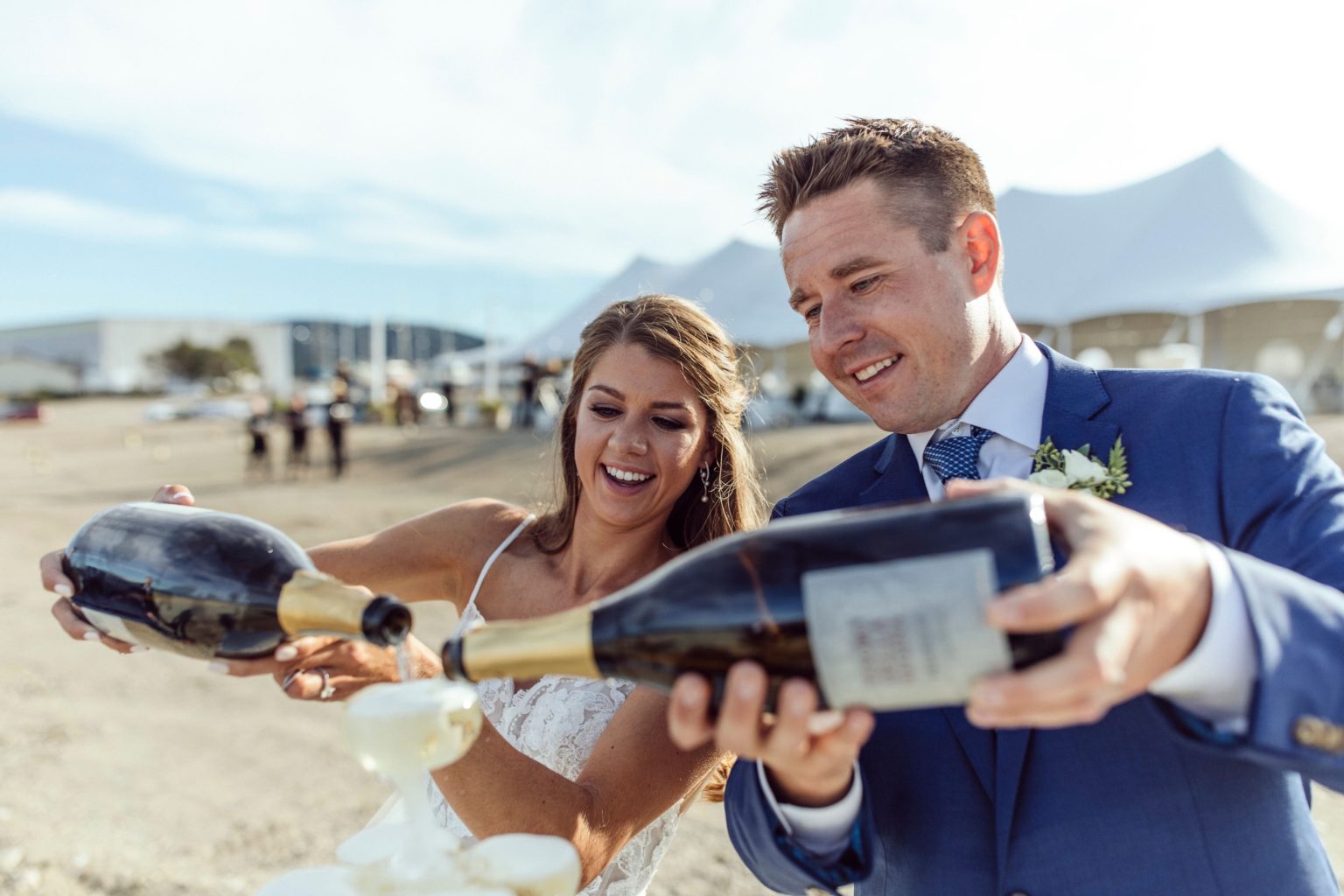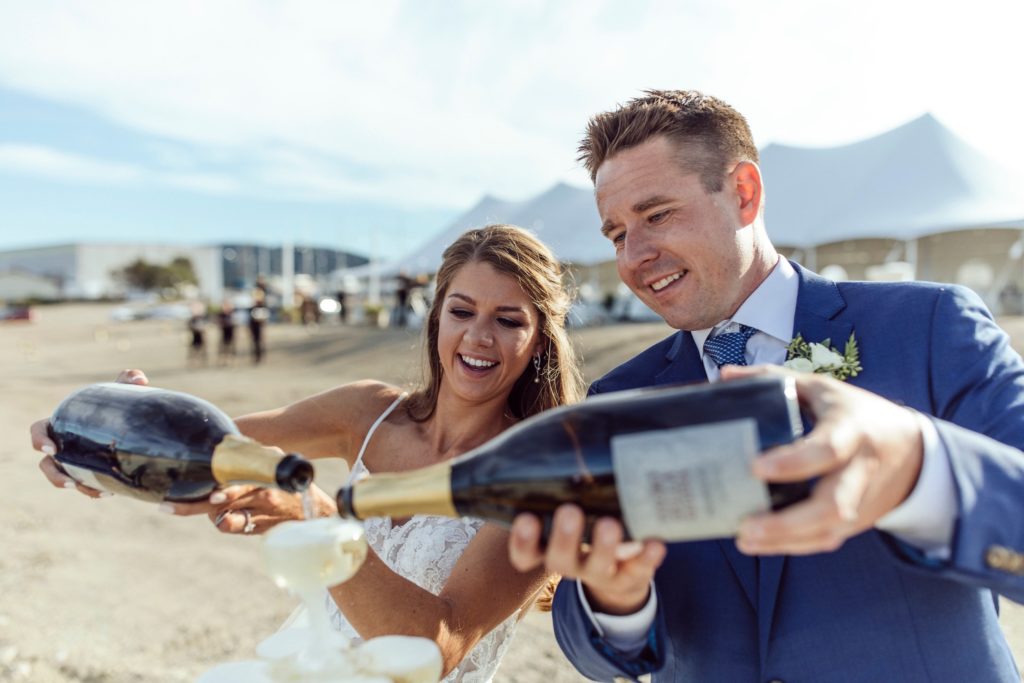 This couple was able to have the wedding of their dreams, which is what every couple deserves. If you're willing to put in the extra time and energy it takes to make your vision come to life, you absolutely won't regret it! I had never seen a wedding so personalized before I watched them do it all themselves. I saw how happy, excited, and giddy it made them to see all of their hard work pay off. If you're contemplating doing something similar, this is your sign to go for it!
Vendors from their big day 
This day couldn't have been such a success without the amazing team of vendors Raquel & Jimmy handpicked for their wedding. Here's a formal list of them with their website or Instagram links, just in case you need recommendations! –
Site for their venue: MJB Properties
Tent: Pacific Party Canopies
Photographer: Mandee Rae Photography
Videography: Mile High Dronography
Catering: Manca's Catering
Florals: LoveLeigh Blooms
Planner: Emerald Engagements
Calligraphy: SFellers Designs
Music: DJ Ottomatic
In search of a planner for your big day?
Whether you're creating a custom venue for your wedding or going the more traditional route, I would love to know what vision is. Having a planner can take loads off of you and your partner throughout the wedding planning process. If you'd like to get in touch with us here at Emerald Engagements, you can fill out our contact form and I will get back to you soon!